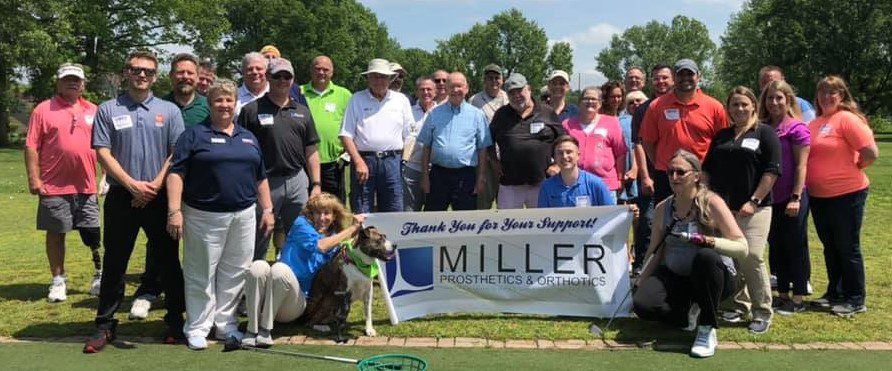 The Prosthetic Users Group meets the second Tuesday of the month, from 6:30 pm – 8 pm.  The meeting locations will change. but it will always be the second Tuesday at 6:30 pm.  Check this page for meeting location.
 It's a great place to meet peers, share experiences, and give and get good tips for meeting life's challenges and adventures.  Here are the details:
2nd Tuesday of the Month
6:30 – 8:00 pm
Meeting Location & Agendas:
May in-person Meeting is CANCELLED due to the Covid-19 Virus.   But – you can join the Amps4ohio group online.  See the Zoom meeting info below. Although life seems to be getting back on track, let's wait until June to meet in person.  If the weather is good, we can have an outside June meeting and cookout to celebrate each other!
ZOOM Online Meetings with Amps4Ohio support group:
May 13th ( Wednesday ) at  6:00PM  (Every month on the 2nd Wednesday until Nov 11, 2020)
Join Zoom Meeting – click link.  You may need to download Zoom app.  It's free.  Call will last a little over an hour.
https://us02web.zoom.us/j/480980545?pwd=TE85VWpDTTVGUDFnZWlTSDYvdWNRUT09
Meeting ID: 480 980 545
Password: 765545
One tap mobile
+13126266799,,480980545#,,1#,765545# US
If phoning in only….
Find your local number: https://us02web.zoom.us/u/kc0eVBBo6c
If you are alone and you need someone to talk to, please give Juanita a call at 928-502-1908. 
…………………………………………….
June Meeting will be Tuesday, June 9, 2020 at 6:30 at Miller Prosthetics & Orthotics, 2354 Richmiller Ln, Belpre, OH 45714 
 *    June 7, 2020 – Yoga with Marsha Danzig in Parkersburg!
*     Learn about the Amputee Coalition National Conference in Washington DC Aug 19-22 and get our group code!
*     We will help you apply for a scholarship to the National Conference and talk about fundraising ideas.
*     Also – it's time to pass on the Award – so if you hit one of your goals, be sure to let us know!
*     We have extra copies of Amplitude with the Keating article if you didn't get your copy.
About our Monthly Meetings:
We welcome you to join us in the evening for our monthly get together.  If you have never been here with the group, it's a relaxing evening.  We gather around the table in our kitchen area.  Sometimes we are treated with great food or snacks depending on what everyone brings.  Do not feel obligated to bring anything, but if you do, we will be sure to enjoy it.  There is no pressure to chat – you are welcome to just come and listen.  It's a great way to meet new friends, and learn something new.  Usually someone has had a similar experience and can share tips on how to manage.  Also – if you have any technical questions for Mark, he will be there.  Please invite your spouse, friend, helper or anyone else you know with limb loss.  You do not have to be our patient, and don't be fooled by the name.  All people with limb loss are invited, even if you do not wear a prostheses.
Thanks for all you do to help each other in the limb loss community.
EVENTS for 2020
Several events to plan for in 2020: We would like to either caravan or arrange for transportation for the out of town events. We will start planning soon and hope that you mark your calendars to join us. We would also appreciate any ideas and help you can give to make the group trips happen!
June 7, 2020 10 am – 11 am Yoga for Amputees Class. Marsha Danzig from Columbus will be at Full Circle Yoga at 1515 Grand Central Ave Ste 10, Vienna, WV 26105! Don't miss it! This event is for YOU!
August 19-23, 2020 Amputee Coalition National Conference Washington, DC. We would like to go and to lead a group of us out there. Maybe we can rent a van or bus. Come and join in on the planning. Check out the pictures from this year's event that was in San Antonio, TX. Link to 2019 Amputee Conference
It's also time for a new Gold Medal Winner! If you have met one of your goals, let us know at Tuesday's meeting and Roger will pass on the gold medal!
*****************************************************************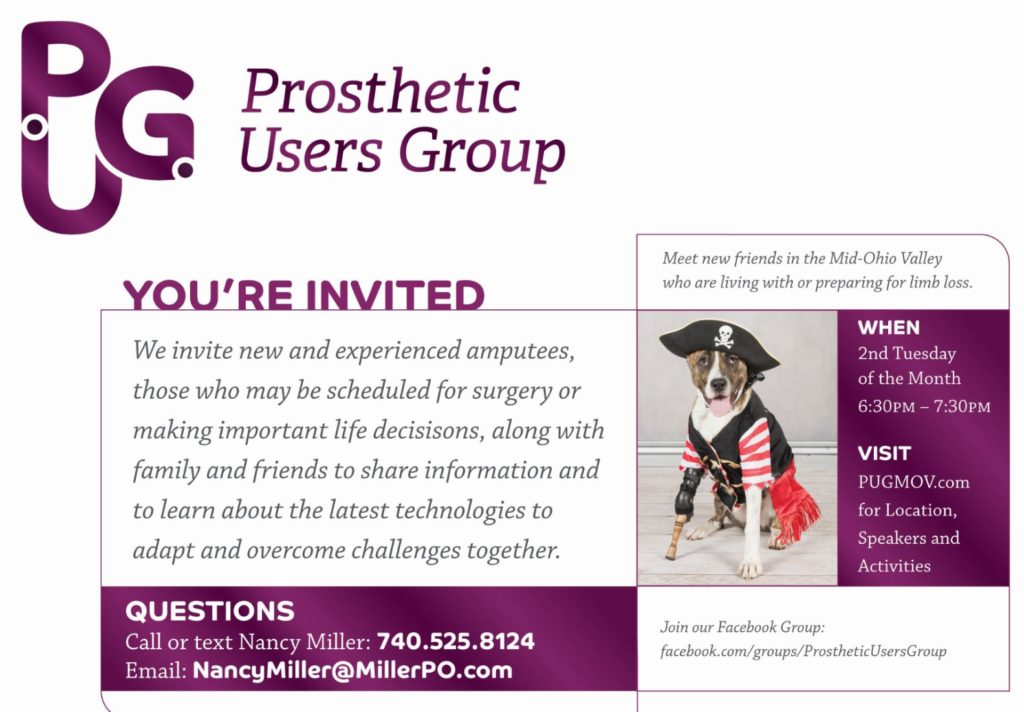 Our Monthly Meetings are Free to attend!
We invite new and experienced amputees, family and friends or those who may be scheduled for surgery or making important life decisions to share information, learn the latest technologies and adapt and overcome challenges together.
We hope to integrate additional activities and outings.
Please contact Nancy Miller at
740-421-4211 with any questions.
Our local group is also a member of the Amputee Coalition, which is the leading national organization working to ensure that amputees do not go through their journey alone. They are promoting April as National Limb Loss Awareness Month, and have numerous ways for you to get involved.
Learn more about the Amputee Coalition on their website: http://www.amputee-coalition.org/
Join the Facebook Group to keep up to date with current activities and to post pictures and let us know what's going on with you!
https://www.facebook.com/groups/ProstheticUsersGroup/