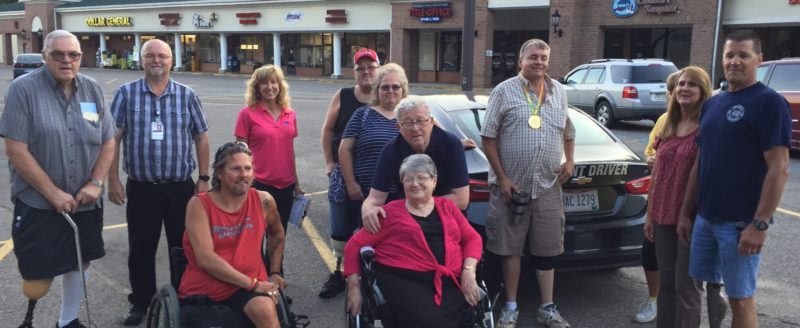 The Prosthetic Users Group meets the second Tuesday of the month, from 6:30 pm – 8 pm.  The meeting locations will change. but it will always be the second Tuesday at 6:30 pm.  Check this page for meeting location.
 It's a great place to meet peers, share experiences, and give and get good tips for meeting life's challenges and adventures.  Here are the details:
2nd Tuesday of the Month
6:30 – 8:00 pm
Meeting Location & Agendas:
************************************************************************
March Meeting will be Tuesday, March 12th at 6:30 at Miller Prosthetics & Orthotics at 2354 Richmiller Lane, Belpre, Ohio 45714
     Agenda:  Discuss Upcoming Events!   We have many events this spring:
Upcoming Events – Read below for details
March 15, 2019 at 1:00 – Focus Research Group for people who lost a limb due to diabetes or vascular disease. Belpre, OH
March 23, 2019 8am – 5pm – Certified Peer Visitor Training, Belpre, OH
April 27, 2019 8am-4pm – Ohio Amputee Celebration, Columbus, OH
May 17, 2019 noon-3 – First Swing Golf Event, Parkersburg, WV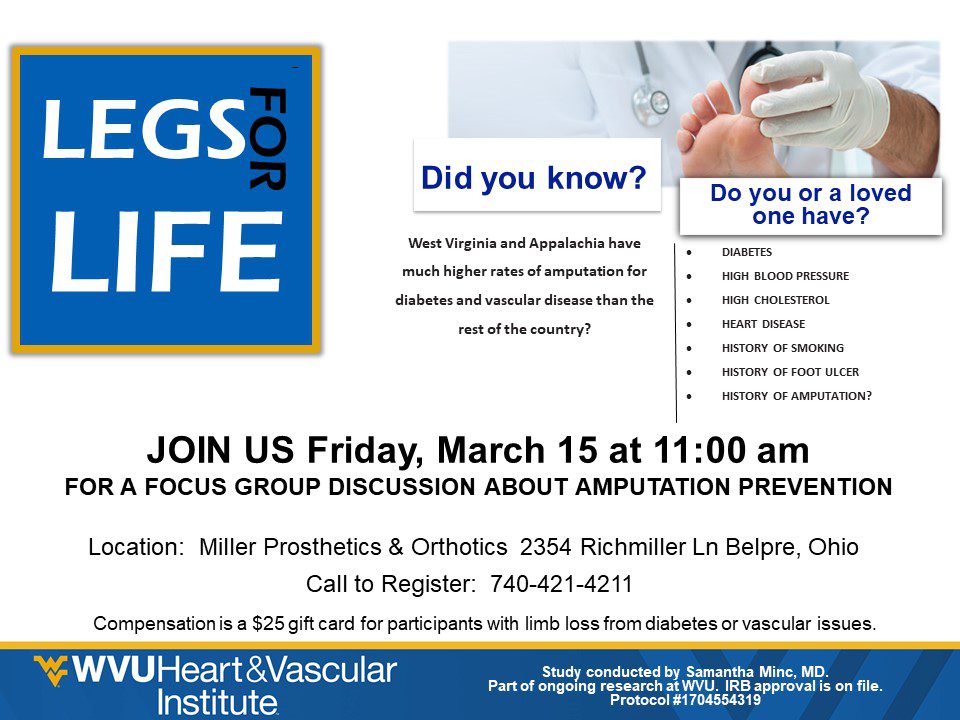 *****************************************************************
Certified Peer Training!
Saturday, March 23rd from 8am-5pm
Miller Prosthetics & Orthotics
2354 Richmiller Lane, Belpre, Ohio 45714.
Lunch provided by Miller Prosthetics & Orthotics.
If you were visited by an amputee when you first had your amputation, then you know the value of meeting someone who has been through a similar experience, and the hopefulness that visit can provide. The National Amputee Coalition has a program to train you to be that same type of peer visitor. You will gain the knowledge and confidence you need to help new amputees with their journey. This is your opportunity to "Pay it Forward".
Juanita Mengel, from Amps4Ohio, is a certified instructor from the Amputee Coalition and will be our instructor. We are so fortunate to have her close enough to teach the class at our Belpre, Ohio location.
The class will be limited to 10 people. You will need to fill out an application – you can get to it here, or we will have some printed out for you at our meeting on January 8. There are fees involved for the manual, instructor and background check. The background check only goes back 10 years. I will have the fees posted soon. We will open up this opportunity to the country on Wednesday Jan 9th, so if you are interested, please apply for your spot asap.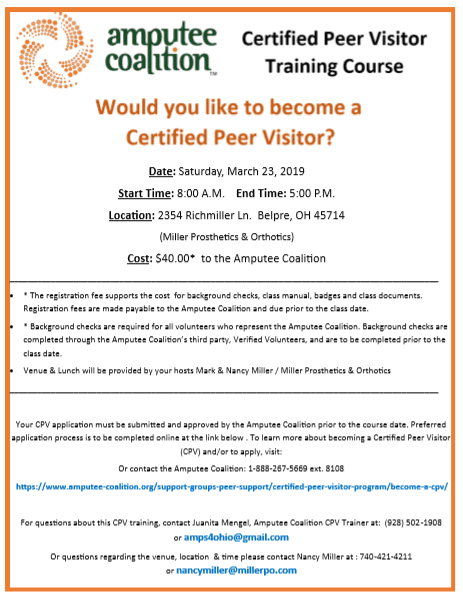 *****************************************************************
Ohio Amputee Celebration!
April 27, 2019 10am-4pm
Franklin Park Adventure Center
1755 E. Broad St., Columbus, Ohio 43203
3rd Annual Event is fun for all!
Meet amputees from all over Ohio and outlying areas.
Free to attend.
Exhibitors/Vendors, Adaptive Bikes, Speakers, Adaptive Clinics & Equipment, Floor games, BBQ lunch, snacks, gift bags, door prizes & more!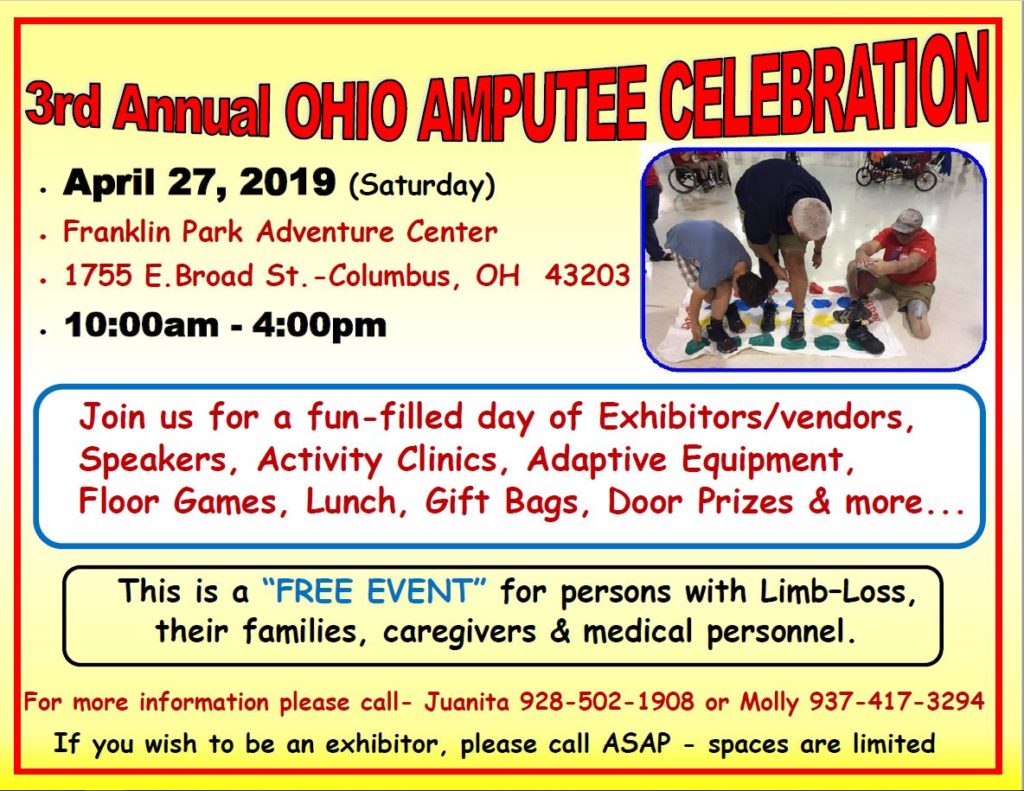 *****************************************************************
First Swing Learn to Golf Clinic
Friday, May 17, 2019
Parkersburg Country Club, 4910 1st Ave, Vienna, WV 26105.
9am-noon Therapists, Train the Trainer Session
Noon – 1pm Lunch for All
1pm-3pm Therapists assist Amputees to learn to Golf!
Miller Prosthetics & Orthotics is excited to sponsor an opportunity for you to learn about adaptive golf, techniques and equipment. This free event is coordinated by the National OPAF organization with expertise instruction from Don and Donna Zommer from the National Amputee Golf Association (NAGA) Therapists and PGA Golf Professionals can apply for CEU's (Continuing Education Units).
Click here to register for this free event! https://opaffirstswingwvpart.eventbrite.com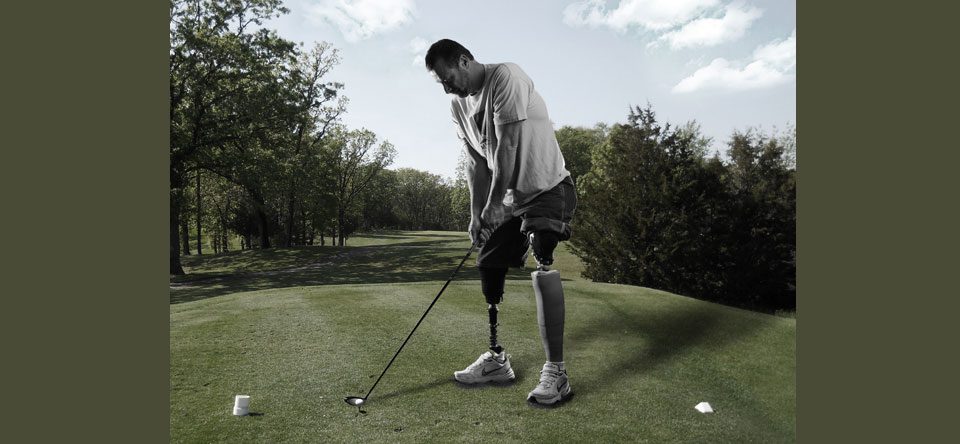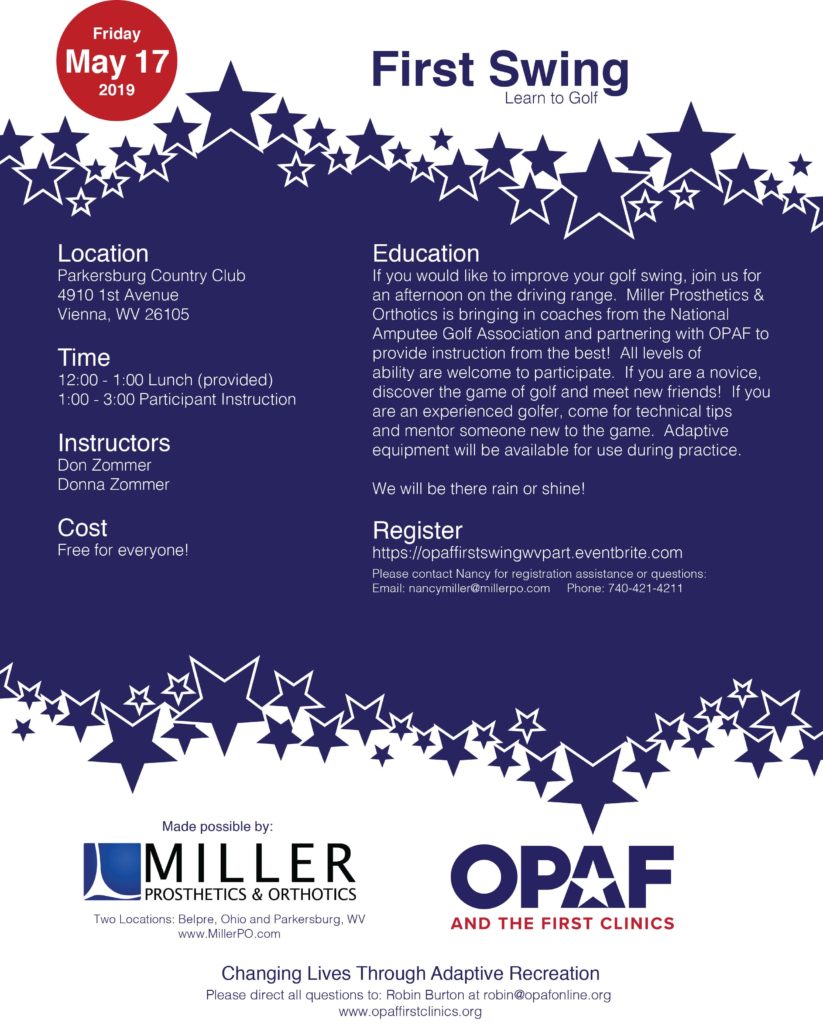 *****************************************************************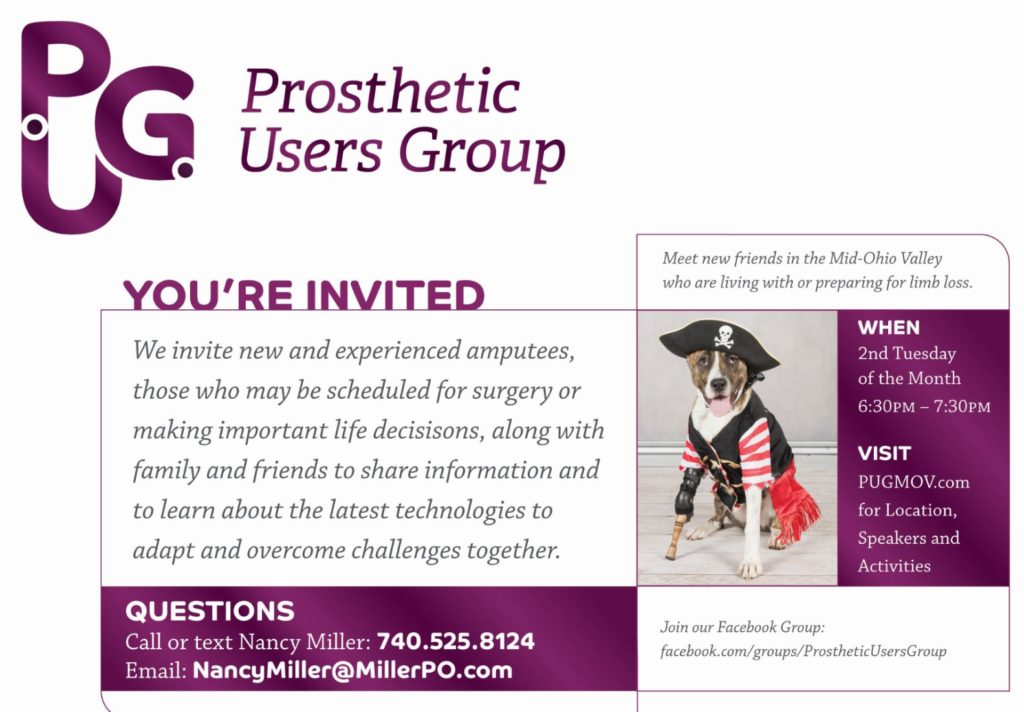 Our Monthly Meetings are Free to attend!
We invite new and experienced amputees, family and friends or those who may be scheduled for surgery or making important life decisions to share information, learn the latest technologies and adapt and overcome challenges together.
We hope to integrate additional activities and outings.
Please contact Nancy Miller at
740-421-4211 with any questions.
Our local group is also a member of the Amputee Coalition, which is the leading national organization working to ensure that amputees do not go through their journey alone. They are promoting April as National Limb Loss Awareness Month, and have numerous ways for you to get involved.
Learn more about the Amputee Coalition on their website: http://www.amputee-coalition.org/
Join the Facebook Group to keep up to date with current activities and to post pictures and let us know what's going on with you!
https://www.facebook.com/groups/ProstheticUsersGroup/