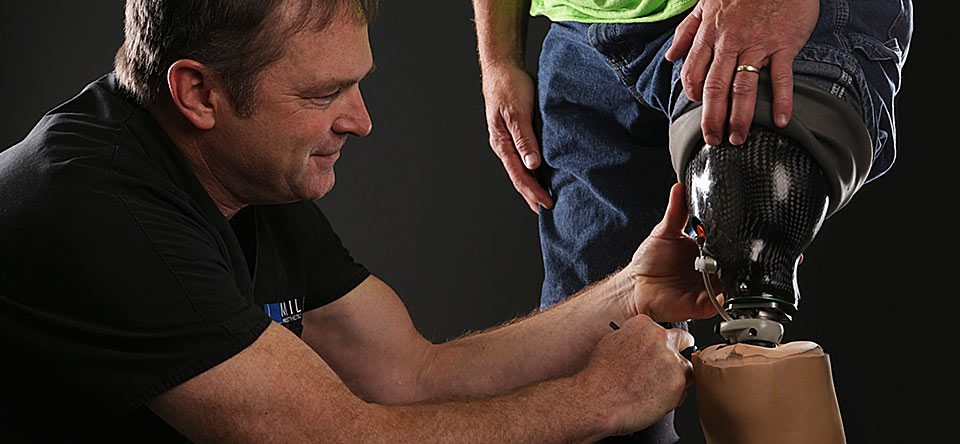 Miller Prosthetics & Orthotics, LLC provides prosthetic and orthotic services in Belpre, Ohio and Parkersburg, WV. We provide high tech solutions for the best fit and service for all patients. All prosthetic patients are welcome, including below and above knee, foot and upper extremity amputees. Orthotics includes custom fitting and fabrication of arch supports, ankle-foot orthoses, knee braces and back braces to eliminate pain and assist during the healing process, while adding stability when walking or moving. We strive to return patients back to the activity level they desire from walking and moving to running, fishing and hunting.
Office Hours
Parkersburg, WV: Monday & Wednesday 8am – 5pm
Belpre, Ohio: Monday – Thursday 8am-5pm; Friday 8am-12pm
Take a Step Toward Comfort

Make an Appointment
Miller Prosthetics & Orthotics would be happy to help you with your specific needs. To schedule an appointment please contact us using the information below. We look forward to hearing from you:

The Miller PO Difference
Patients in the Mid-Ohio Valley have been coming to Mark Miller for prosthetics and orthotics services for more than 20 years. Here are a few reasons why:
3D Scanning
Custom Fit Orthotics
Innovative Prosthetics
Personal Attention

Our Practitioners
Mark Miller CPO/LPO
Owner Mark Miller is a certified, licensed prosthetic and orthotic professional and has been helping patients walk comfortably and restoring their confidence and dignity for over 25 years. Mark was born and raised in Marietta, Ohio, has a Bachelor's of Science degree in Industrial Technology from Ohio University and received his certificate in Prosthetics and Orthotics from Northwestern University in Chicago. He has been practicing in the Mid-Ohio Valley since 1992.
Sean Greer CO
Sean Greer is a Certified and Licensed Orthotist who specializes in Pediatrics and Cranial Remolding. Sean is originally from the Mid-Ohio Valley, but moved away to find education and work on perfecting his craft in the field of Orthotics. Professionally, he has worked for multiple companies in the Eastern part of the country where he has built a very impressive reputation for his character and line of work. He has returned to his hometown and started working with Miller Prosthetics & Orthotics in September of 2017. Since then he has been making a huge impact on the Orthotic community by helping patients of all ages to get back to enjoying their everyday activities.
Covid-19 Status We are open and seeing patients with current appointments. Patients only are permitted in the building unless assistance is needed or you are the parent/guardian of a child. Please plan ahead for this when arriving at our office. We have masks and hand sanitizer available at the front desk.
If you are showing signs of a cold, please reschedule by calling us at 740-421-4211.
If you have been to our office and find you have been exposed to the virus, please contact us immediately at 740-421-4211. Thank you and stay healthy.